Encyclopedia of British Football
~ Amateur Football ~
Source - References
The Football Association was established in October, 1863. The aim of the FA was to establish a single unifying code for football. The first meeting took place at the Freeman's Tavern in London. The clubs represented at the meeting included Barnes, Blackheath, Perceval House, Kensington School, the War Office, Crystal Palace, Forest (later known as the Wanderers), the Crusaders and No Names of Kilburn. Charterhouse also sent an observer to the meeting.

Percy Young, has pointed out, that the FA was a group of men from the upper echelons of British society: "Men of prejudice, seeing themselves as patricians, heirs to the doctrine of leadership and so law-givers by at least semi-divine right."

The FA insisted that football should remain a sport for amateurs. As Richard Holt and Dave Russell pointed out in the Encyclopedia of British Football: "They wished to create a new sporting elite where an upper-class code of honor could be combined with the middle-class virtues of exertion and competitiveness. Amateurs advocated participation over spectating and adopted an ethical code of sportsmanship, stressing respect for opponents and referees."

Neil Wigglesworth argues in his book The Evolution of English Sport (1996) that the notion of amateurism was nurtured by members of the upper-class who "dabbled nonchalantly in the arts with no aim towards achieving excellence." Brian Belton, the author of Founded on Iron: Thames Ironworks and Origins of West Ham United (2003), put forward the theory that: "Within the public school structure, sport was employed to promote the whole system of class distinction, emphasizing lines of demarcation and symbolizing the fantasy of moral, cultural and even spiritual superiority."

In 1871, Charles W. Alcock, the Secretary of the Football Association, announced the introduction of the Football Association Challenge Cup. It was the first knockout competition of its type in the world. Only 12 clubs took part in the competition: Wanderers, Royal Engineers, Hitchin, Queens Park, Barnes, Civil Service, Crystal Palace, Hampstead Heathens, Great Marlow, Upton Park, Maidenhead and Clapham Rovers.

Many clubs did not enter for financial reasons. All ties had to be played in London. Clubs based in places such as Nottingham and Sheffield found it difficult to find the money to travel to the capital. Each club also had to contribute one guinea towards the cost of the £20 silver trophy.

The Wanderers won the 1872 final. They also won it the following season with with Arthur Kinnaird getting one of the goals. Other winners of the competition included Oxford University (1874), Royal Engineers (1875), Old Etonians (1879 and 1882) and Old Carthusians (1881).

New clubs in the textile towns of Lancashire such as Blackburn Olympic, Blackburn Rovers, Darwen and Preston North End began to attract quite large crowds. This enabled them to unofficially pay their players small sums of money to cover their costs of appearing on a Saturday afternoon.

Blackburn Olympic was funded by Sidney Yates, the owner of a local iron foundry. The club entered the FA Cup for the first time in the 1882-83 season. Coached by former England player, Jack Hunter, Blackburn beat Lower Darwen 9-1 in the second round of the competition. This was followed by victories against Darwen Ramblers (8-0), Church (2-0) and Druids (4-0). Hunter, who also played at centre-half for Olympic, led his team to a 4-0 victory over Old Carthusians in the semi-final of the competition.

Over 8,000 people arrived at the Oval to watch Blackburn Olympic play Old Etonians in the final. Blackburn selected the following team: Thomas Hacking (dental assistant), James Ward (cotton machine operator), Albert Warburton (master plumber and pub landlord), Thomas Gibson (iron foundry worker), William Astley (weaver), John Hunter (pub landlord), Thomas Dewhurst (weaver), Arthur Matthews (picture framer), George Wilson (clerk), Jimmy Costley (spinner) and John Yates (weaver).

Old Etonians were appearing in their third successive FA Cup Final. Their captain, Arthur Kinnaird, was playing in his ninth final and his side were hot favorites to win. Goodhart gave the public school side a 1-0 lead at half-time. The fitter Blackburn Olympic began to take control of the game in the second-half and Arthur Matthews scored a well-deserved equalizer. Despite being the much better team Olympic was unable to score a winning goal during normal time. After 17 minutes of extra time, Thomas Dewhurst ran at the defense, centered the ball to Jimmy Costley, who volleyed the ball past the goalkeeper.

Blackburn Olympic had become the first northern team to win the FA Cup. Unlike previous winners, they were not really an amateur team. It was later revealed that Sidney Yates was paying the players £1 appearance money. No amateur club was to win the FA Cup again.

The first international game had taken place between England and Scotland on the 30th November, 1872. Over the next few years Wales and Ireland also began playing internationals and in 1882 the British International Championship was established. Each country met the other three over the course of the season.

Only amateurs could play in these games. James Forrest of Blackburn Rovers won his first international cap for England against Wales on 17th March, 1884. The following year he was selected to play against Scotland. Scottish officials complained as they argued that Forrest was a professional. At the time he was receiving £1 a week from Blackburn Rovers. Forrest was eventually allowed to play but he had to wear a different jersey from the rest of the team.

Arnold Hills, the chairman of West Ham United, raised doubts about the wisdom of employing highly paid professionals. At the end of the 1898-99 season he wrote: "The committees of several of our clubs, eager for immediate success, are inclined to reinforce their ranks with mercenaries. In our bands and in our football clubs, I find an increasing number of professionals who do not belong to our community but are paid to represent us in their several capacities... Now this is a very simple and effective method of producing popular triumphs. It is only a matter of how we are willing to pay and the weight of our purses can be made the measure of our glory. I have however, not the smallest intention of entering upon a competition of this kind: I desire that our clubs should be spontaneous and cultivated expressions of our internal activity."

Dave Russell attempted to explain why the upper-classes disliked this development in his book Football and the English: A Social History of Association Football in England (1997): "Professionalism, it was believed, would encourage gambling, partisanship and the will to win at all costs; turn what should be a source of pleasure and moral virtue into a mere job of work and, by leaving the professional sportsman with too much time on his hands, render him a highly unsuitable role model for the young working classes."

After the selection of James Forrest, international sides contained more and more professional players. It was another sign of the decline in amateur football. However, one of England's greatest players, G.O. Smith, was an amateur. Smith won his first international cap on 25th February, 1893. England beat Ireland 6-1 and Smith, who played centre-forward, scored two of the goals. Smith was 5 feet 11 inches tall but was of slight build and was extremely reluctant to head the ball. However, he had a good shot and made a lot of goals for his fellow attackers with his accurate passing.

James Catton pointed out: "Anyone could knock him off the ball if he could get into contact with him. But he was difficult to find, so elusive was he. His value consisted chiefly of wonderfully accurate passes to either wing; either to the inside or the outside man. And his body balance and swerve were such that when he left the arena not a hair of his head was out of place." During his time playing for Corinthians (1898-1901) he scored 113 goals in 131 games. He also had a good record for England scoring 11 goals in 20 games. Smith played his last game for England on 30th March 1901.

His replacement in the England team, Vivian Woodward, was also an amateur player. He won his first full international cap for England against Ireland on 14th February, 1903. He scored two goals in England's 4-0 victory. The following day the Times reported that Woodward "certainly added to the reputation he is making as a centre-forward." Another journalist described Woodward as: "The human chain of lightning, the footballer with magic in his boots."

The 1908 Olympic Games took place in London. Woodward was captain of the England team that beat Sweden (12-1) and Holland (4-0) to reach the final against Denmark. England won the gold medal by beating Denmark 2-0 on 24th October, 1908. Also in the team was Harry Stapley of West Ham United.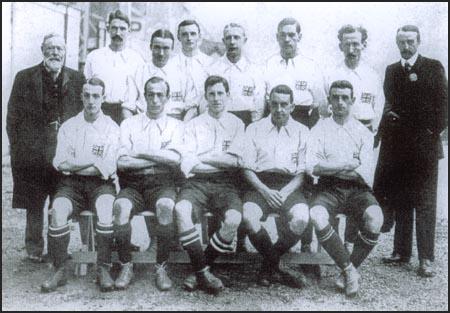 The England team that won the 1908 Olympic Games gold medal.
Vivian Woodward is in the centre of the front row.
Harry Stapley is sitting to Woodward's right.
Vivian Woodward played his final game for England in 1911 scoring two goals in the 6-1 victory over Wales. Over an eight year period he had scored 29 goals in 23 games (13 as captain). A record that stood until Tom Finney beat it in 1958. However, Finney played in 72 games for his 30 goals.

The 1912 Olympic Games took place in Stockholm, Sweden. Vivian Woodward was once again captain of the England team that beat Hungary (7-0) and Finland (4-0) to reach the final against Denmark. Woodward won his second goal medal when England beat Denmark 4-2 on 4th July, 1912. He continued to captain the England amateur team playing his last game against Sweden on 12th June 1914. In 44 amateur internationals, Woodward scored an amazing 57 goals in 44 games.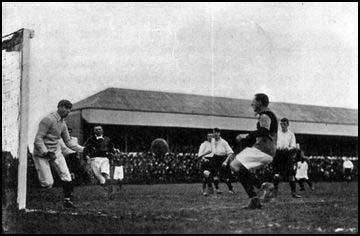 Leigh Roose playing for Stoke City
Another famous amateur player during this period was . He was a doctor by profession but played in goal for several clubs including Stoke City, Everton, Sunderland, Celtic, Huddersfield Town, Aston Villa and Arsenal.

When he moved from Everton to Sunderland rumors began to circulate that his new club were making illegal payments in order to gain his services. As an amateur he was only allowed to be paid expenses. The Football Association asked Roose to compile a list of each individual expense claim made in the 1907-8 season. Roose made a joke of the situation by including "Pistol to ward off opposition - 4d. Coat and gloves to keep warm when not occupied - 3d. Using the toilet (twice) - 2d." Sunderland insisted that they only paid Roose his travel expenses. Unable to prove otherwise, the FA dropped its case against the club.

The English international, Evelyn Lintott, came from a wealthy family and therefore played as an amateur. In 1907 Lintott joined Queens Park Rangers. In 1909 QPR was in serious financial difficulty. In order to help QPR he became a professional and was sold to Bradford City in the First Division of the Football League for over £1,000. Lintott, like Leigh Roose, was killed in the First World War.


Source - References
(1) Ernest Needham, Association Football (1901)



Young players who wish to make a name for themselves as forwards would do well to watch such a player as Mr. G. O. Smith. In him they will see one of the finest centre-forwards England has ever had to represent her in International matches. He is one of the most brilliant and gentlemanly players who ever stepped on to a football field. He has never been known to do anything that was not scrupulously fair, nor to charge foully. He plays the game with ease and gracefulness; he is clever with the ball; he passes accurately; and he is one of the best shots at goal I have ever seen. When he shoots he seldom fails to hit the mark, and he is, above all, unselfish. There you have the ideal forward.



(2) The Sporting Chronicle (30th November, 1909)



The most cheering news we have had during our time of desolation is the intimation that Vivian John Woodward is going to assist Chelsea. Had the great Vivian been a professional player his transfer fee, I fancy, would have been something near a record one. Instead Woodward comes to us for love, and we may take it that he is already the idol of Stamford Bridge. Vivian Woodward always has been and ever will be the people's favorite. Small wonder. Great as he is as a player, his first claim to popularity lies in the fact that he has ever been first and foremost a gentleman. I question if any footballer has ever been so universally popular, and he carries his honors with the air of a bashful debutant. Honors have been showered upon him, and never has he been known, either on or off the field, to belie his title of the perfect gentleman.



(3) Frederick Wall, 50 Years of Football (1935)



Bloomer had an intense admiration for G.O. Smith. The Old Carthusian, according to both Goodall and Bloomer, was so easy to play with, and he was a man without petty pride. Smith used to call out "Steve," and he made the position so favorable that in the twinkling of an eye the ball was in the net. And whether you counted it a good shot or not, Bloomer held that there was never a bad shot that scored. I firmly believe that Bloomer in many respects never had a superior...

I am going to make a statement that may be considered startling, but as my opinion is honest, I am not concerned if it does not agree with the views of others. G.O. Smith and Woodward were both great players, but the Tottenham and Chelsea forward was the better. Why was he the better footballer? Woodward was the more versatile, the more consistent, and cleverer with his heading.



(4) J. A. H. Catton, The Story of Association Football (1926)



The first time I met G.O. Smith was in the grounds of the Crystal Palace, when I was introduced to the famous Oxonian by Mr. J.J. Bentley, and he struck me as rather frail in physique, gentle in manner, and kind in disposition. On the field he was courageous and most unselfish. In his case, mind triumphed over muscle by quickness of decision, the swiftness of his movements, the perfect simplicity of his style, the swerve and balance of his body, and his neatness of footwork.

Anyone could knock him off the ball if he could get into contact with him. But he was difficult to find, so elusive was he. His value consisted chiefly of wonderfully accurate passes to either wing; either to the inside or the outside man. And his body balance and swerve were such that when he left the arena not a hair of his head was out of place.

There have been far more prolific scorers - Tinsley Lindley, for instance-but as John Goodall said to me in his bird shop at Watford it was "no trouble to play with him." Good Master John believes that G.O. Smith, irreverently called "Jo," was the finest centre he ever saw or played with, because he was such a master of doing the right act at the right moment. That is really the whole art of football-and yet how many men can so nearly approach the perfect?



(5) Peter Seddon, John Goodall: You and Yesterday (2007)



On Saturday, January 25, 1896 a most unusual game was staged at Derby County's Baseball Ground – a testimonial billed as "Derby County versus The Gentlemen of England".

At face value, the contest was unremarkable. Foul weather restricted the gate to a disappointing 5,000, as Derby County ran out winners by 4-3.

And this was no thriller – in truth Derby's well-drilled professional players, fresh from a training break at a state of the art hydropathic establishment in Ashover, won at a mere canter.

But thereby hangs the tale. The Derby County players were the new breed of hard-bitten thoroughbred professionals, mostly working class men who played for money without a hint of shame.

Football to them was a job. In contrast, the "Gentlemen of England" were the old breed of unpaid amateurs – all highly-talented players in their own right, but mostly university-educated men of privileged background and professional standing who played for the love of the game rather than "filthy lucre".

That made the friendly fixture an unlikely one indeed, since voluntary fraternization between the "pure" amateurs and "tainted" professionals was hardly to be encouraged.

The man in whose honor the yawning gap was bridged was Derby County's own "gentleman professional" John Goodall, whose fine character and reputation for fair play was held in such universal esteem that he earned the sobriquets "Honest John" and "Johnny Allgood".

So the John Goodall Testimonial was far more than just another friendly fixture – the Baseball Ground that day witnessed a symbolic moment in football history. It was the moment the posh old guard paid public homage to the common new breed – the day when professional football, hitherto reviled by much of educated society, truly came of age.



(6) Alan R. Haig-Brown, The Leading Amateurs of Season 1902-03 (1903)



Perhaps the name which was most prominent in football circles during 19O2-3 was that of Vivian Woodward. G.O. Smith had taken his well-earned laurel wreath into seclusion, and an anxious eye was being cast round for his successor. Few thought he was to be found among the ranks of amateurs until the Spurs brought to light young Woodward, and England decided that what was good enough for the London Cup-fighters was good enough for her. He is a player with a great future before him. Though built somewhat on the light side he is clever and tricky, a master of the art of passing. It is a 1,000 pities that his lack of weight renders him a temptation which the occasionally unscrupulous half-back finds himself unable to resist. His record of goals both in League matches and in Internationals is a flattering one, for, all said and done, the most important duty of a centre forward is to find the net, and find it often.



(7) C. B. Fry, statement made in (January, 1903)



It must be very satisfactory to the selectors to find Woodward so great a success at centre forward, especially as he is likely to improve for several years to come, and will thus, perhaps, provide them with another "G.O.". At present I see not much likeness between Woodward and G.O. Smith. Indeed, the fact that they are both amateurs is about the full extent of the resemblance. But Woodward is a fine player who may become a great one, and he has a style of his own which is sufficiently good in itself... He is to be heartily congratulated on his success. It will be a surprise and a great disappointment now if he does not get his cap against Scotland.



(8) Evening News (February, 1954)



Vivian J. Woodward, one of the greatest centre forwards England ever had, died last night, aged seventy-four, at a nursing home at Ealing. He had been ill for four years.

Woodward had a most illustrious career. He was a director of Tottenham Hotspur as well as their centre forward. He was also a director of Chelsea during the time he played for that club.

For many years he was England's centre forward or inside right and, including his amateur and Olympic Games honours, played for England more often than any other player.

He was an out-and-out amateur. Directors of the Spurs and Chelsea have told me they could not get him to charge his bus fares for matches.

He played entirely for his love of the game, and under a code which nowadays would be thought not to belong to this world.