Encyclopedia of British Football
~ Irish Internationals ~
The Irish Football Association was formed in 1880. They played their first game in 1882 when they were beaten 13-0 by England. The following year the British International Championship was established. Each country met the other three over the course of the season. Scotland won the initial championship by beating England (1-0), Wales (4-1) and Ireland (5-0). The following season Scotland scored 8 against both Wales and Ireland. However, they could only manage a 1-1 draw against England.

Despite being born in Blackburn, in 1890 Jack Reynolds was selected to play for Ireland against Wales. On 15th March, 1890, Reynolds scored Ireland's only goal in their 9-1 defeat against England. In 1891 Reynolds joined Ulster where he won an Irish Cup runner-up medal after losing to Linfield in the final. That season he played in all three of Ireland's games against Wales (7-2), England (1-6) and Scotland (1-2).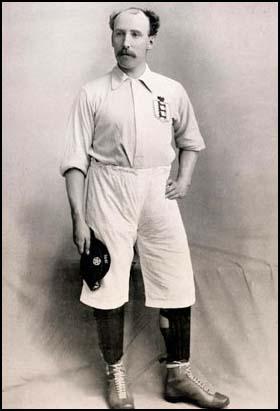 Jack Reynolds won his first international cap for England on 2nd April, 1892. Only one other player, E. E. Evans, has been known to play for two of the home countries. Over the next five years he won another seven caps for England. This included victories over Scotland (5-2 and 3-0) and Wales (6-0 and 4-0). Overall he scored three goals in eight games for his country. He is also the only player, barring own goals, to score for and against England.

For many years Scotland and England dominated the British International Championship. It was not until Ireland was involved in a three-way tie in 1902-03 that there were signs of a shift in power. Wales won the title in 1906-07 and Ireland did it in 1913-14.