Robert Middleton worked as a schoolteacher before becoming secretary/manager at Darwen. He also worked for Rotherham United and Blackpool before joining Blackburn Rovers in July 1903. He replaced Joseph Walmsley who had been accused by the Football Association of approaching Everton players about fixing a vital game against Blackburn.

Middleton purchased Bob Evans, a Welsh international goalkeeper, from Wrexham for £150. In November, 1903, Middleton also persuaded Fred Pentland, who had scored five goals in eight games for Blackpool, to join the club. Pentland scored seven goals in 18 league appearances, but his efforts could not stop Blackburn from being involved in another relegation struggle. The club eventually finished in 15th place in the league.

It was the same story the following season. Despite good individual performances from Bob Crompton, Adam Bowman, Bob Evans, Fred Blackburn, and Arnie Whittaker, Blackburn could only finish in 13th place. Bowman was the top scorer with 13 goals. In an article that appeared in the Blackburn Times a journalist wrote: "Like its two predecessors, the season of 1904-05 has been one of disgrace to the Rovers".

Lawrence Cotton, a local wealthy businessman, became chairman of Blackburn Rovers in March 1905. The following month Robert Middleton signed Welsh international striker, Billy Davies from Wrexham. Ellis Crompton, another young player with a reputation for scoring goals, also joined the club. At the same time, two of Blackburn's best players, Lionel Watson and Fred Blackburn, joined West Ham United. Blackburn, an English international, left because he was upset with the decision not to grant him a benefit. Fred Pentland who was unable to maintain his goal scoring form, moved to Brentford in the Southern League.

Blackburn Rovers finished in 9th place in the 1905-06 season. Adam Bowman was once again the club's top scorer with 15 goals. His strike partner, Billy Davies, added 11 more. That year, Middleton lost the services of Blackburn's talented centre-half, Sam McClure, who died after an abscess in the ear spread inwards towards the brain.

Robert Middleton made several significant signings that year, including Jack Martin, Edwin Latheron, and Wattie Aitkenhead. Kelly Houlker, who had played for Blackburn Rovers between 1896 and 1901, also rejoined the club. However, now aged 34, he was passed his best and only managed 31 more games over the next two years.

Lawrence Cotton helped to raise the money to improve the Elwood Park ground. On 1st January, 1907, the recently constructed Nuttell Street Stand was opened. It could accommodate 4,112 supporters seated in the upper tier, with room for a further 9,320 standing in front. A crowd of 35,000 watched Blackburn draw 1-1 with Preston North End.

Blackburn Rovers finished in 12th place in the 1906-07 season. They were knocked out of the FA Cup by Tottenham Hotspur but won the Lancashire Cup when they beat Liverpool 3-0. Jack Martin proved to be a great buy and ended up the club's leading scorer with 17 goals.

1907-08 season was very disappointing. Blackburn Rovers was knocked out of the FA Cup in the first round when they were defeated by Second Division Leicester Fosse. They also had a first round exit in the Lancashire Cup. Blackburn's league form was little better and after a late rally they finished in 14th place. Billy Davies, Edwin Latheron and Jack Martin, ended up as joint top scorers with 9 goals each.

Blackburn's new signings failed to shine. The Blackburn Times commented: "The second-rate players might advantageously be reduced and the money thus saved be utilized in paying the maximum wage to first-class men."

Robert Middleton appointed the former Preston North End star, Bob Holmes, as trainer. This had a good impact on the team as they obtain 4th place in the 1908-09 season. Billy Davies scored 19 goals in 27 league appearances. This included four goals against both Bristol City and Everton. Ellis Crompton (10) and Edwin Latheron (9) added to the impressive number of goals scored that season. Blackburn also won the Lancashire Cup and the East Lancashire Charity Cup that season.

Blackburn continued their good form the following season and by October 1909 they became leaders of the First Division of the Football League. They lost their position in January 1910 and finally finished in 3rd place behind Aston Villa and Liverpool. Blackburn's 45 points was the best total they had ever accumulated in a season. Blackburn's defense was outstanding but an injury to Billy Davies caused the club serious problems in front of goal. Wattie Aitkenhead was top scorer with 14 goals and the consistent Edwin Latheron added 10 more.

Blackburn's away form in the 1910-11 season was disastrous with their only win coming on the last day of the season. Although they won 12 games at home they could only finish in mid-table. This was very disappointing considering their 3rd and 4th positions in the previous two seasons. Top scorers were Billy Davies (16), Wattie Aitkenhead (13) and Edwin Latheron (11).

Middleton continued to add to his squad. Jock Simpson joined Blackburn Rovers from Falkirk in 1911 for a fee of £1,800. The 1911-12 season began badly with Blackburn losing two of its first three games. Blackburn's form gradually improved and the team went on an unbeaten run that lasted three months. This took them to the top of the league. Despite being defeated by Bolton Wanderers and Arsenal, Blackburn went on another good run and by the end of the season they had three more points than main challengers, Everton. It was the first time in Blackburn's history that they had won the Football League title.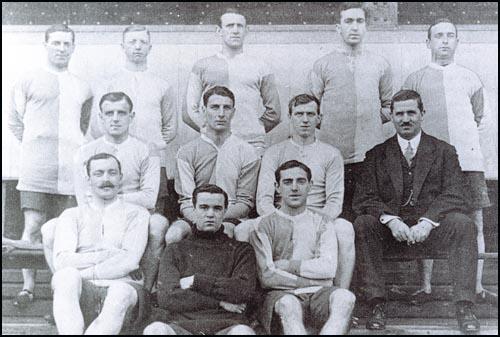 Blackburn Rovers in 1911-12 season.
From left to right, Back row: Jock Simpson, Edwin Latheron, George Chapman, Wattie Aitkenhead, Walter Anthony
Middle Row: Albert Walmsley, Percy Smith, Billy Bradshaw, Robert Middleton
Front Row: Bob Crompton, Alf Robinson and Arthur Cowell.
Blackburn started the 1912-13 season very well and were undefeated until December. This was followed by five successive defeats. In an attempt to regain the championship, Robert Middleton broke the British transfer record by buying Danny Shea from West Ham United for £2,000. He also purchased another forward, Joe Hodkinson for £1,000. Shea scored 12 goals but it was not enough and Blackburn finished 5th that season.

As well as buying the top players, Lawrence Cotton also invested in ground improvements. He spent 7,000 on a new stand by the River Darwen. This provided covered accommodation for some 12,000 spectators. In the 1913-14 season Blackburn once again won the league title. Danny Shea was in great form scoring 27 goals. Edwin Latheron also did well that season with 13 goals. Both men also won international caps for England that season. Patsy Gallagher, described Shea as "one of the greatest ball artists who has ever played for England... his manipulation of the ball was bewildering."

The following season Blackburn Rovers broke the transfer record again when they bought Percy Dawson for £2,500 from Heart of Midlothian. Blackburn Rovers scored 83 goals in 1914-15 season. However, their defense was not as good and Blackburn finished 3rd behind the champions, Everton. Dawson was top scorer with 20 goals. He was followed by Edwin Latheron (17), Danny Shea (13) and Wattie Aitkenhead (8).