William Sudell the manager of a local factory, became the secretary of Preston North End. Sudell decided to improve the quality of the team by importing top players from other areas. This included several players from Scotland.

Over the next few years players such as John Goodall, Jimmy Ross, Nick Ross, David Russell, John Gordon, John Graham, Robert Mills-Roberts, James Trainer, Samuel Thompson and George Drummond. He also recruited some outstanding local players, including Bob Holmes, Robert Howarth and Fred Dewhurst. As well as paying them money for playing for the team, Sudell also found them highly paid work in Preston.

In January, 1884, Preston North End played the London side, Upton Park, in the FA Cup. After the game Upton Park complained to the Football Association that Preston was a professional, rather than an amateur team. Sudell admitted that his players were being paid but argued that this was common practice and did not breach regulations. However, the FA disagreed and expelled them from the competition.

Preston North End now joined forces with other clubs who were paying their players, such as Aston Villa and Sunderland. In October, 1884, these clubs threatened to form a break-away British Football Association. The Football Association responded by establishing a sub-committee, which included Sudell, to look into this issue. On 20th July, 1885, the FA announced that it was "in the interests of Association Football, to legalize the employment of professional football players, but only under certain restrictions". Clubs were allowed to pay players provided that they had either been born or had lived for two years within a six-mile radius of the ground.

Under the leadership of Major William Sudell, Preston North End became one of the best clubs in England. In the first round of the FA Cup in 1887-88, Preston beat Hyde 26-0. This is the highest score ever recorded in the competition. Jimmy Ross, who had developed a good partnership with centre-forward John Goodall, scored seven of the goals against Hyde.

Preston played West Bromwich Albion in the final that year. According to reports, Preston was much the better team and Bob Roberts, the WBA goalkeeper made good saves from Fred Dewhurst, Jimmy Ross, John Goodall and George Drummond. Dewhurst did eventually score but WBA won the game 3-1.

In March, 1888, William McGregor, a director of Aston Villa, circulated a letter suggesting that "ten or twelve of the most prominent clubs in England combine to arrange home and away fixtures each season." The following month the Football League was formed. It consisted of six clubs from Lancashire (Preston North End, Accrington, Blackburn Rovers, Burnley and Everton) and six from the Midlands (Aston Villa, Derby County, Notts County, Stoke, West Bromwich Albion and Wolverhampton Wanderers). The main reason Sunderland was excluded was because the other clubs in the league objected to the costs of travelling to the North-East.

The first season of the Football League began in September, 1888. Preston North End won the first championship without losing a single match and acquired the name the "invincibles". The top goal scorers were Jimmy Ross (21), John Goodall (20) and Fred Dewhurst (12).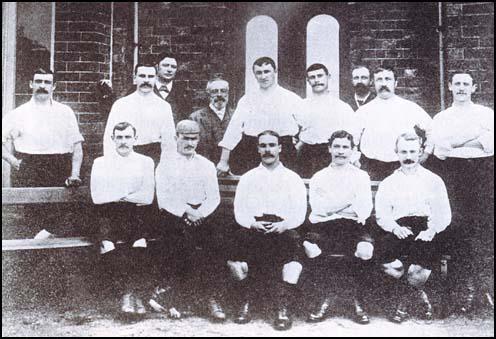 The Preston North End team that won the Football League title in 1888-89.
George Drummond, Bob Holmes, Robert Howarth, William Sudell, John Graham and Robert Mills-Roberts are in the back row.
John Gordon, Jimmy Ross, John Goodall, Fred Dewhurst and Samuel Thompson are sitting on the bench.
Preston North End also beat Wolverhampton Wanderers 3-0 to win the 1889 FA Cup Final. The goals were scored by Jimmy Ross, Fred Dewhurst and Samuel Thompson. Preston won the competition without conceding a single goal.

Preston North End also won the league the following season but finished second to Everton (1890-91) and Sunderland (1892-93).

Preston's top players were persuaded to sign for other clubs: John Goodall (Derby County), Jimmy Ross (Liverpool), David Russell (Nottingham Forest), Samuel Thompson (Wolverhampton Wanderers), whereas Bob Holmes, George Drummond, Robert Mills-Roberts, James Trainer and John Graham retired from full-time professional football.

In 1893-94 Preston finished third from bottom (14th). That season William Sudell was sent to prison for embezzling £5,000 from his employers. It is believed he later emigrated to South Africa where he became a successful football reporter.