CURRENT FITNESS


Preparing and TrainingÖTests in Operation


Andrew Castiglione
Founder of Ken Aston Referee Society

MONITORING YOUR FITNESS





CURRENT FITNESS TESTS IN OPERATION



1. FIFA List Officials

2. National List Officials

3. Contributory League Officials

4. Supply League Officials
MONITORING YOUR FITNESS v PASSING A TEST

KEEPING A TRAINING DIARY

EXAMPLE OF A TRAINING DIARY

FITNESS AWARDS

CONVERT DISTANCE INTO POINTS
MONITORING YOUR FITNESS

How do you know when you are fit?

How do you know when you are becoming fitter as a result of your training program?

How do you know if you are fir enough to Referee at a particular level?

Every now and again it is important to monitor your fitness level, be it for your own evaluation or part of a required test to enable you to Referee at a particular level. Fitness tests fall into two main categories Ė specific or general.

SPECIFIC: These tests measure the personís ability to perform a particular activity or skill, e.g. weightlifting, rowing or motor racing.

GENERAL: These tests measure how well a personís body responds to physical effort and provides a measure of performance capability.

As Refereeing is an endurance activity and involves mainly running it falls into the general category. Tests of a general nature would be for example:



- Time taken to run a given distance (e.g. 10m, 50m, 200m, 3000m)


- Distance covered in a given time (e.g. the 12 minute run as part of the Cooper Test)

Football authorities throughout the world monitor the fitness level of their Referees by means of a general fitness test, although at the higher levels these are supplemented by additional medical information (e.g. Blood Pressure, Body Fat Percentage, Lactic Acid Accumulation, Hemoglobin level, Cholesterol level, Eyesight etc.
CURRENT FITNESS TESTS IN OPERATION.
1. FIFA List Officials
General fitness test includes:

- 2 runís of 50 meters in 7.5 seconds - to measure the speed off the mark.


- 2 runís of 200 meters in 32 seconds - to measure basic speed.


- A minimum of 2700 meters in 12 minutes - to measure stamina.



2. National List Officials



Are required to pass two general fitness tests...



- A Multi Stage Fitness Test - to measure stamina.


- The Referee runs between two points 20 meters apart at a pre-determined speed.


- The speed required increases every minute.


- The Referee must reach 'Level 11' to pass. This correlates with a Maximum Oxygen Consumption Value of approximately 50ml/kg/min.

Following a 30 minute recovery period the Referee undertakes:



- A Repeated Sprints Test - to measure speed off the mark and basic speed.


- The sprint is over a distance of 60 meters and is repeated 6 times in the following way.


- 10m x 20m x 20m x 10m with 30 seconds recovery between each set of 60 meters.

Time allowed:
Sprint 1 14.7sec
Sprint 2 14.8sec
Sprint 3 14.9sec
Sprint 4 15.0sec
Sprint 5 15.1sec
Sprint 6 15.2sec
It is permitted to have one sprint outside the target frame.

Speed off the mark is measured through the changes in direction.

Basic speed is measured by the time over the whole course.

3. Contributory League Officials

The Fitness Test for this level is based on the following:



- 2 runs of 50 meters in 7.5 seconds - to measure speed off the mark.


- A minimum of 2700 meters in 12 minutes.

4. Supply League Officials

Until recently it was not considered necessary to test the fitness of officials at this level. However, more and more Supply Leagues are including a fitness test as part of their selection process. An official at this level should be able to complete at least 2400 meters in 12 minutes, but will be expected to achieve 2700 meters it they wish to be promoted to a Contributory League Assistant Referees List.

No standardized fitness test exists for Referees at this level, but it is suggested that all officials should be able to complete 2200 meters in 12 minutes.

Before starting to Referee, it is advisable to complete your Fitness Awareness Profile and be able to run 1800 meters in 12 minutes.
MONITORING YOUR FITNESS v PASSING A TEST

To proceed to Referee at a higher level you are required to "pass" a fitness test. By gaining a "pass" you have achieved a minimum level of fitness required for that particular level of Refereeing. Unless you have run as fast as you can throughout the test the result does not reflect your actual level of fitness. The aim of every Referee should be not to just "pass" the test but to perform maximally so your optimum level of fitness can be measured.

KEEPING A TRAINING DIARY

The purpose of a training diary is to keep a record of all the training, technical sessions and other related activities you do each week. In this way you will be able to see how your training is progressing in relation to your performance and fitness test results. This will also help your Fitness Training Leader assess your progress. Be honest in your assessment, as the training diary forms the basis of training modifications. An example of a daily training diary can be found below.
EXAMPLE OF A TRAINING DIARY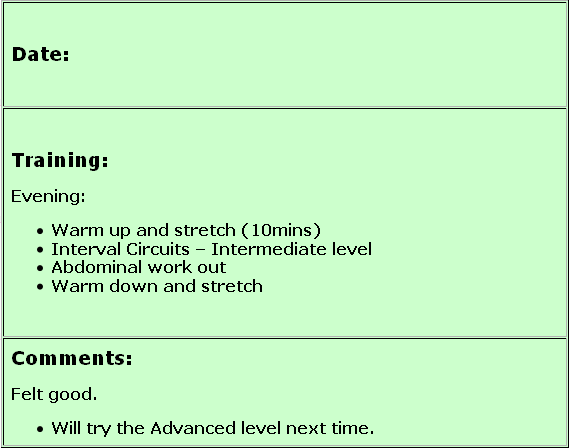 FITNESS AWARDS

Would you like to be known as the fittest referee in your Region, Area, Section, County or your League? The Ken Aston Referee Society is awarding Certificates of Achievement to those referees who not only pass their fitness test but also achieve a standard higher than the one needed to pass. Check with local RRA for details!!!

The award is open to all Referees and involves completing a 12-minute run. The distance covered is then converted to points. The 12-minute run must be undertaken as part of a supervised fitness test by a competition or a County FA, or organized by your Area Fitness Coordinator or an approved Fitness Training Leader. A pointís score of 75 (2700m) is the minimum required to receive a 'Pass Certificate'. By increasing your score to 79 (2900m) you can achieve a 'Bronze Award' and further improvement to 85 (3100m) and 91 (3300m) will gain you the 'Silver Award' and the coveted 'Gold Award' respectively. At the end of each season, the Referee with the highest score will receive the Football Association's 'Fittest Referee Award'. A chart converting distance into points is shown below:
CONVERT DISTANCE INTO POINTS

Run for a maximum of 12 minutes and convert the distance covered into points.
For Referees officiating at Contributory League or above, the minimum standard is 75 points.

91+ Gold

85 - 90 Silver

79 - 84 Bronze

75 - 78 Pass

66 - 74 Supply League Referees not officiating as Assistant Referees on higher league.

60 - 50 Referees officiating in local football only.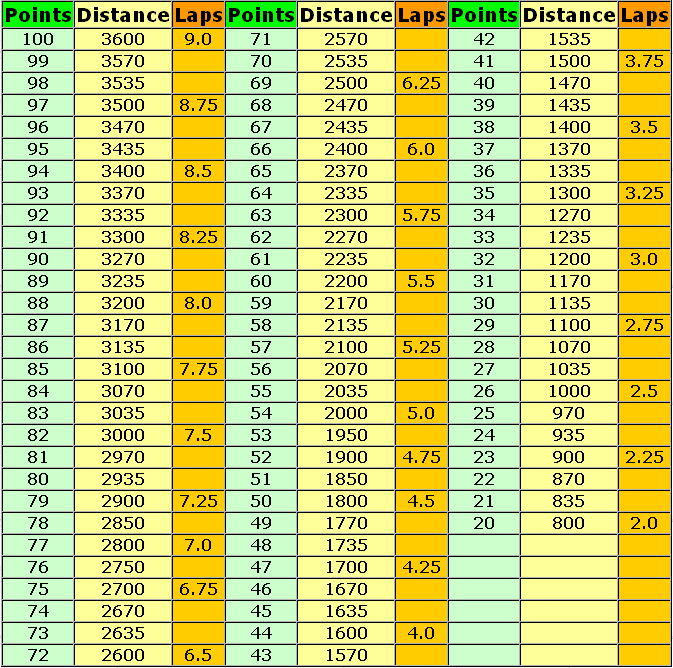 A Referee at any classification can undertake the awards.

It is not recommended that a person commence Refereeing until they have scored at least 50 points.
Source of information: 'A Guide to Fitness for Referees' April 2001, produced by the Football Association England. Acknowledgement to the National Coordinator for Fitness Training, Vernon Crew; along with expert advice from John Brewer, Director of the Lilleshall Sports Injury and Human Performance Center; Alan Hodson, Director of the Football Association Medical Education Center; and Rob Hartley, Head of the Sports Science Department, University of Brighton.