Pierluigi Collina, left, an iconic and now retired Referee,
had to keep up with the pace of elite soccer players.
World Cup Referees Outrun Players


Preparing and Training…


By... Madison Park, CNN
June 4, 2010 11:35 a.m. EDT

Article Reference
For two years leading up to the World Cup, Brian Hall exercised four hours almost every day.

He lifted weights, jogged, did interval training and monitored his heart rate while holding a day job. And years before that, he squeezed in workouts while working 8-to-7 office job as a vice president for procurement at Visa and a software director.

Hall had one goal: to make it to the World Cup as a Referee.

Referees, who can be twice the age of the players, sprint across the field keeping up with the players and closely tracking the action. They tend to run 12 miles during the game -- five more than the players, according to data from the U.S. Soccer Federation.

The 2010 FIFA World Cup begins June 11 in South Africa. Every four years, 32 countries compete for a month to be named the best soccer team in the world.

The journey to becoming a Referee in the world's biggest sports event is physically demanding. FIFA, the governing body that oversees the tournament, sets rigorous fitness requirements for its World Cup Referees in a weed-out process that began three years ago.

Unlike the elite soccer players who have a cadre of trainers and specialists, most of the Referees have day jobs, like teaching or office work, and must find their own time to train.

"It is not an easy task competing with the best players in the world," said Hall, who was a Referee in two 2002 World Cup games, about keeping pace.

Along with the physical demands, the paid Referees also deal with mind games on the field. They scrutinize the theatrics, hear the tirades and tantrums of players. They also make crucial decisions knowing that every call will be second-guessed by millions of screaming fans, pundits and TV cameras.

They meet with sports psychologists to help them cope with the pressures, according to FIFA.

In 2007, FIFA ramped up its Referee training by launching its Refereeing Assistance Program to prepare the candidates for 2010.

Because Referees have to keep up with the speed of the game, they are subjected to two fitness tests to mimic the action on the soccer field. They are given the tests multiple times.

The first fitness test requires speed. A Referee runs 40 meters six times. Each of the six sprints needs to be completed in 6.2 seconds for a male Referee. He is allowed 1 minute and 30 seconds between each sprint.

The second test examines the Referee's stamina in repeated high-intensity runs. He must run 150 meters in 30 seconds, and then must walk 50 meters in 35 seconds. This is repeated 20 times, which equals 10 laps around a track field. Assistant Referees have less strict standards.

Last week, FIFA announced that two of the 30 Referee trios selected to officiate at the World Cup would not be able to take part in the competition, because two assistant Referees did not pass the fitness tests. There are no American Referees at the tournament this year.

The fitness tests are nerve-wracking, said Hall, the last U.S. Referee to officiate a World Cup game.

"Every time I took that fitness test, I didn't sleep very well the night before," he said. "You worry about getting injured. You worry the weather isn't good. The weather makes the test more difficult. Just those little things are factors that can negatively affect you."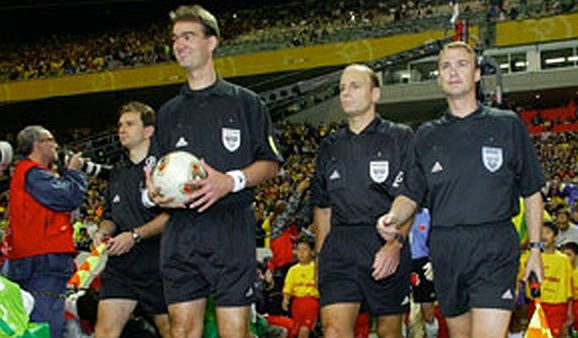 Brian Hall, center holding the Ball, was the U.S. Referee to oversee a World Cup game walked to the field in 2002 in Saitama, Japan.
To make sure they're physically capable, the Referees constantly wear a watch that monitors their heart rates. The United States Soccer Federation follows the same guidelines for Referees as FIFA, said Paul Tamberino, its Director of Referee development.

Although it may sound like overkill, Brian Hall, who wore one, said monitoring makes sense.

"It's very difficult for officials without that guidance, without that Big Brother approach, to maintain the same fitness level as players are expected to maintain," Hall said.

Being in better shape could help in other facets of the job.

"You don't want a sore body to negatively impact your focus and your brain's ability to see something," he said. "The more tired your body is, the slower your brain works."

Referees also receive weekly training schedules.

"It's a training schedule that consists of long-distance running, interval training, along with nutrition," Tamberino said. "These guys are athletes as well. They follow the same training schedule, nutrition and hydration and get this info of what you should eat -- lots of protein, carbs, hardly any sugar."

The nutrition plans are specific, with foods such as eggs, oatmeal and cereal with 2 percent milk.

A year before the 2002 World Cup, Brian Hall took a buyout from his company to devote more time to training.

Brian Hall coached a high school team in Northern California and practiced side steps, sudden direction changes to replicate the movements in soccer. He would strength train at the gym and visit a physical therapist afterwards. He also got a workout while overseeing matches in other leagues.

The four-hour daily workouts were "a little loony," Hall said. "I tried to replicate much as possible what a player would do to prepare for the World Cup as a Referee."

Even after intensive training, presiding over a World Cup game was exhausting. During the last 10 minutes of the match between Ecuador and Italy, he glanced at his heart rate monitor. It recorded 160 beats per minute -- the recommended level for a man in his 40s is 90 to 135 during exercise. Brian Hall reached FIFA's mandatory retirement age of 45 in 2007.

Brian Hall recalled watching enviously as the two teams made their substitutions and thinking, "I wish they could sub Referees."

"You're working so hard because of the pressures of the World Cup," he said.
"You take performance personally and stay close to the play to make the right call."
That's not an easy thing.
Again, that's why you spend so much time training...
"You take so much pride at coming [to the game] at the highest fitness level possible."