The Refereeing Paradox
"World Cup ~ 2014"
Bob Evans, Ph.D.
Principal Instructor 2002 Ken Aston Referee Camp
Former USSF National Director of Instruction
Former FIFA Referee, National Instructor, National Assessor
Published Author of... "For the Good of the Game"
For the Integrity of Soccer - Art and Science of Refereeing ~ BLOG

Biography
I emigrated from Wales and England in 1963, stayed in Nova Scotia for two years, then went to the University of Kansas to work towards a Ph.D. in Geology. In 1969, after playing both soccer and rugby at KU, I moved to Dallas, Texas to work in a geological research laboratory. I figured that my soccer career was over. Hah!

Little did I know that senior soccer had been played in Dallas for a long time, and in the late sixties, when I arrived, youth soccer was beginning to grow as a sport. Within a week or two I was practicing with the German-American club, the local league champions, and not long afterwards, I was asked if I would like to coach the team. This was not a difficult task, since the club had some very fine, if aging, players, and we won both the league and the cup for 1969-70.

I had first qualified as a Referee in 1964, while recuperating from a broken leg incurred in the Nova Scotia senior league. In Dallas I started Refereeing again, in youth and senior soccer. By the early seventies, the fledgling North American Soccer League was expanding and looking for more officials, so I threw my hat in the ring.

By any decent standards I was unprepared to officiate professional soccer. In fact, the first time I ever ran line was in a professional game! But I learned fast and in my second season in the NASL, I was put in the middle of an exhibition match between Dallas and Monterrey of Mexico. A league match came my way shortly afterwards, and I stayed as a Referee in the NASL until it folded in 1984. I joined the International Panel in 1979, retired one year early to take over as National Director of Referee Instruction in 1988, and started the National Testing sessions by taking up on the idea put forward by my predecessor Bob Sumpter.

In the meantime, I had a full research career as a geologist, but decided to change direction in 1996. The notion of writing had been whispering in my ear for several years, and when it became clear that my employer was giving up on pure research, I decided to leave to give it a try. I went back to school (at the University of California at Santa Cruz for 1996-97), took an intern-ship in Idaho for eight or nine months, and have been freelancing ever since, from our home in California.

Readers will notice as this site progresses, that I will make reference to aspects of my life besides soccer. I will occasionally put something up about science, including geology, which still holds me captive, and about writing, be it about scientific or other themes.

Science is more than a subject at school; it is a way of thought, a way of facing the world, and I have to say that it has permeated my life. Even in the world of soccer, science has its place, and so research into various aspects of the game and refereeing will appear on this site from time to time.

If you are interested in Good Refereeing, Good Science, Good Writing, then enjoy, your journey here on... KenAston.org, as you wish.

---
Germany are now the World Champions, having won the Final of the 2014 FIFA World Cup. Most enthusiasts have rated the 2014 World Cup as the best in recent history for exciting entertaining soccer, featuring a large number of fantastic goals.

In contrast to this, the refereeing in the tournament has come in for a great deal of criticism, for some specific critical errors and also for the overall approach to control of the games and application of the Laws. Individual mistakes can happen for several reasons, and we will not discuss these here. We will instead analyze the overall approach.

The Referees selected for the World Cup are all extremely good Referees. First of all they are on the FIFA list from their respective countries. Although there are some political appointments to these lists, by and large only the best Referees in each country receive this honor. This is particularly true in the countries with long-time established highly competitive leagues such as England, Italy, Spain, France, Germany, Mexico, Argentina and Brazil to name just a few. They referee games involving the world's best and highly paid players on a regular basis. They have gone through a rigorous selection process over several years, including attending meetings and seminars, working in other significant tournaments where their games are reviewed in detail. Eventually this led to the selection of 25 referee crews consisting of a referee and two assistant referees usually from the same country. These Referee teams have worked with each other in numerous matches, so that there should be no misunderstandings and miscommunications due to unfamiliarity and language problems that sometime plagued previous World Cups. All of the Referees and their assistants selected have been the best from their particular countries and have proven themselves to be excellent Referees in their own national leagues and other competitions such as the UEFA Champions' League, Copa America and CONCACAF Gold Cup together with the qualifying matches for the 2014 World Cup.

So the question is: "Why were there such unusual styles of refereeing in the World Cup?" The answer is clear. The Referees are instructed to Referee in a style that is different from the one that got them selected in the first place. In order to keep up the entertainment factor, FIFA did not want too many key players getting yellow and red cards, which would result in suspensions and hence weakened teams in later matches. As a result the Referees allowed many reckless fouls to go unpunished with a caution, when it was very clear that the referee would certainly have issued a caution for such tackles and fouls in their previous matches. There were several clear examples of this in many matches. Compounding this, in avoiding giving out red cards, several instances of serious foul play, fouls involving excessive force and endangering the safety of an opponent were not punished properly, a yellow card or nothing at all being shown instead. Furthermore, the concept of persistent infringement was completely abandoned.

As a result, players and coaches having figured this out, played accordingly and we saw the results. The culmination of all of this was several players suffering serious injuries that prevented them from continuing in the tournament.

The most dramatic of these was the broken vertebra suffered by Neymar Jr., of Brazil in the quarterfinal match with Colombia refereed by Carlos Velasco Carballo of Spain. This match featured two of the most attractive and exciting players of the tournament, Neymar and James Rodriguez of Colombia. Both players were subjected to multiple fouls throughout the match, but aside from calling the fouls, the referee did nothing to prevent further escalation and ended up with a total of 54 fouls, a very high count for a professional match. This was very perplexing because Sr. Velasco Carballo is usually a very strong and strict Referee in La LIga in Spain, and it is certain that he would not have allowed such play to continue in those games without intervening and punishing the miscreant.

Neymar's injury was as a result of a being hit in the back at force and speed by the knee of Colombian defender who was not punished for the foul. This was considered at least reckless and if not serious foul play by most observers. Neymar was not able to play in the semifinal that Brazil lost to Germany 7-1, and in the 3rd place match, also a loss 3-0. Neymar Jr. was the star player of the host country on whose shoulders the success of the team depended. He was also a huge commercial and media star, more jerseys were sold with his name on them than anyone else's and he appeared in commercials and advertizing for seemingly everything from toothpaste to toilet paper. His loss was a tremendous blow to Brazil and the entire tournament, and many have considered that the subsequent losses by the Brazil team where due in large part to his absence. Thus this one incident had tremendous repercussions not only on the field.

If players had been restricted in their style of play to avoid aggressive tackles by the correct, normal and usual use of the Yellow and Red Card system of match control, such bad fouls could have been prevented. Every Referee is trained from the beginning of their careers to establish firm control early in the match by calling simple fouls and issuing yellow cards when called for and even red cards if needed. The once control is established and the players know the limits, the game can be played in a fair manner and brutal play and injuries prevented or kept to a minimum. Refereeing of this type would have prevented the injury to Neymar Jr. in our opinion.

The opposite way of trying to avoid issuing cards early in the match, by use of so-called "Management Techniques" does not work when the stakes are so high as they are in the World Cup. They depend on the cooperation of the players, but with such a short number of games to play, this is not going to happen.

FIFA writes and publishes The Laws of the Game, and supplements this with instructions and interpretations to aid referees to control the games. These Laws have been changed over the years to give referees more power to prevent and stamp out brutal and cynical play, of the type suffered by Pele in the 1966 World Cup, and that prematurely ended the career of Marco van Basten among others. As a result, fans and commentators alike have grown accustomed to seeing certain types of fouls punished by yellow or red cards, in the major competitions around the world. Referees are expected to apply and enforce these Laws as written. It is bizarre that when it comes to the most prestigious and important tournament in the soccer world, FIFA seemingly does not want its own Laws enforced as the referees have been doing all of their previous careers. This simply does not make any sense. Once players realize that cards will be issued when appropriate, they will adjust their play to avoid getting cautioned and so missing a subsequent match if they get two in different matches. The fans and journalists want to see games officiated properly in the manner to which they are accustomed, not compromised for entertainment reasons. The World Cup is in the last analysis, a sporting competition.

We had a glimpse of this concept in the Final match of the 2010 World Cup discussed here at the time. DeJong of Holland hit Alonso of Spain with his studs in a flying karate-style kick in the ribs. This was a clear case of serious foul play and an obvious red card, but the Referee only gave a yellow card to DeJong. Although 14 yellow cards were eventually given, there had been several instances early in the game when yellow cards should have been given but were not, and this lack of action by the referee is what led eventually to the unusually large number of cards being issued in an attempt to regain control of the match. What was the reason for this?


As an aside, several years ago in these pages, we consistently pointed out that this concept was being used erroneously in MLS with predicable results. The upshot of this was that a totally new entity was formed known as PRO headed by experienced men brought in from the PGMOL in England, and now we are seeing a different and more correct approach to officiating these matches. We did not expect to see this type of thinking at the World Cup level. Hopefully, the pendulum will swing back the other direction for the 2018 event in Russia.


So here we have some do's and don'ts for the Referees: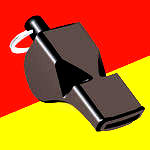 1. When taking disciplinary action …say no more than the law requires: "This is a caution (Yellow Card) for unsporting behavior…If you commit another like that, I may have to ask you to leave the field."

If anything more needs to be said, do not get into an argument. Never insult a player. Let the player have the last word of disagreement. Then remove yourself from the discussion.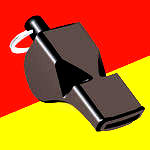 2. Learn not to be too sensitive to disagreement about decisions you make. The players will not agree …all the time…the fact is you make mistakes! WE all do. We must simply learn to live with them and try to improve, in the next game.

When someone makes a sly comment of disagreement, a suitable response may be,: "Well you may be right, it might have been the other way, but we'll live with it the way it is." After all, when someone disagrees with you, they are not attacking the very soul of your being…you do not need to over-react.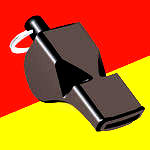 3. Set a pleasant atmosphere… a technique that works for me is to seek out the coaches before the game and introduce myself. With a smile I may say something like this: 'Well it's a lovely day for a game, and I'm really looking forward to doing this one. I hope your players enjoy themselves." AND I never give threatening speeches to the captains at the coin toss. All that is necessary is … a few words and "good luck to you both."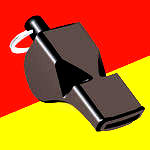 4. If you have had a major disagreement with some players or with a particular club, stay away from them for a while. Give hard feelings a chance to soften. You are not a tougher Referee when you go straight back… with teams you have had problems with: you are an unwise one.

You are forgetting that the players have the right to a pleasant game…. If you're being there creates the wrong atmosphere, even before kick off… YOU are the one who must give way. The players are more important than the Referee is. There will always be other games.

Underlying this discussion is a disturbing thought...


" Those who have been once intoxicated with power, can never willingly abandon it" (Edmund Burke).

Burke understood that, because he was writing about the colonial government, in its dealings with the American revolutionaries. But we know too, because we can all think of Referees who will not change their dictatorial and harsh ways.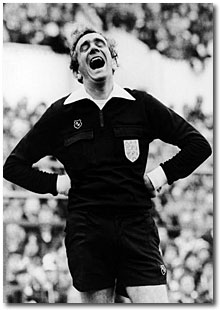 But the great hope, in writing about this, is that we can reach Referees, who may be wise enough to change their ways, for the benefit of the players-whose game this is. And if they will not, then the game may have to get along without them.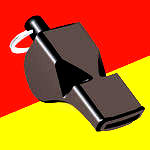 Reactions Welcome... cymro@mcn.org